Using LoRa (Long Range) communication with the Semtech SX1261/1262/1268 modules
Introduction to LoRa
Beside of the wireless communication systems WiFi, Bluetooth and GSM/LTE, there is a less known technology called LoRa that enables 2 devices to communicate with each other over a longer range, in perfect scenarios over kilometers without the need of WiFi access points,  repeaters or cell towers. Available since quite some time with different protocols, the long range communication system is using a license free (at least in most countries) Sub-1GHz radio band called ISM ( industrial, scientific and medical ).
While these frequencies can basically be used by anyone, there are local regulations and rules that must be applied. These regulations and rules define frequency regions and usage allowances that are defined by different legislation's for different regions of the world. A good source to find regulations applying to your country and region is the LoRa Alliance® resource HUB. There you can find all kind of information (even if it is mainly for LoRaWan, which I will not touch in this introduction). As a start you can look into my collection of frequencies for LoRa by region here. (written by me, so you will find similar explanations there).
While there are many tutorials and blogs for using LoRa with Arduino existing, most of them are based on the RFM95, RFM96 or RFM69 modules. These modules are using the older generation Semtech SX1276 chips. But for the latest LoRa chip generation from Semtech, the SX1261/2/8 chips are barely any Arduino tutorials written.
The Hardware
As an introduction how to use LoRa I will use the Adafruit HUZZAH32 – ESP32 Feather Board together with the Alora RFM1262 Feather Wing from Circuitrocks. For easy assembly I plug both into an Adafruit FeatherWing Doubler Prototype board.
We will need two of these setups. One will be acting as a sensor node. The second one will be a gateway node that forwards data to the IoT.
Why the Semtech SX1262? And why the Alora RFM1262 board?
Since some time Semtech has a new generation of radio chips, the SX126x series. Compared with the SX127x series this new generation offers firstly lower battery consumption, secondly higher transmit power and thirdly better immunitiy to noise on the radio signal.
Because of these advantages the RFM1262 board utilizes the new Semtech SX1262 chip, moreover it has a continuous frequency coverage from 150MHz to 960MHz. Designed to be compatible with Adafruit Feathers, you can add long range communication features to your project. In addition, it offers the use of different antenna types. You can use a simple wire antenna, plug in an flex antenna into the pre-mounted U.FL connector or solder a SMA connector and screw an antenna directly onto the board.
Circuitrocks has as well a nice tutorial and how-to-use LEARN blog for the module.
For the sensor node I will just use a  temperature and humidity Si7021 sensor to collect data and send it from the sensor node over LoRa to the gateway. For the I2C connection of the Si7021 sensor you can either breakout the 3.3V, GND, SDA and SCL lines on the Feather Doubler prototype to a connector and plug the sensor in. Or you switch to an Adafruit Feather Tripler prototype board and use the Circuitrocks SensoWing Prototyping Add-on board to plug in the sensor there.
The Software
As development platform I personally prefer PlatformIO as plugin to Visual Studio Code. But if you want to use ArduinoIDE that is no problem. The source codes will compile there as well.
As SW interface between our application and the SX1262 module we use the SX126x-Arduino library which is written specifically for this module and supports ESP32, ESP8266 and the nRF52 micro controller platforms. I made this library because there was no other Arduino library available for the SX126x chips, beside of RadioLib, but that didn't support the LoRaWan protocol (it is on the todo list of Jan, so maybe by the time you read this, LoRaWan is supported as well).
To keep it simple the sensor node will collect temperature and humidity data and send it over LoRa to the gateway. The gateway is collecting sensor data from several sensor nodes and forwarding them to an IoT service. I chose IO.Adafruit which is easy to use. But with an free account you can collect and display only 10 different sensor values.
Battery powered
Both the sensor node and the gateway software are optimized to use a battery as power supply instead of the usual 5V USB chargers.
To minimize power consumption both units are most of the time in deep sleep mode. In deep sleep mode, most of the ESP32 is powered down. Only the RTC logic is awake, waiting for an event to wake up the ESP32. There are 3 options to wake up from a deep sleep, touch pad, external interrupt or timer event. Random Nerd Tutorials has a very good article about the deep sleep and the wake up methods here.
On the sensor node we use the timer as a wake up method. After every reading of the Si7021 sensor we send both the ESP32 and the SX1262 into deep sleep to preserve battery charge. After 30 seconds the RTC timer will wake up the ESP32 which then reads the sensor data, wakes up the LoRa modem and sends the data to the gateway.
For the gateway it is a little bit more difficult. Because we do not know at what time a sensor node is sending a data package, we cannot use the timer to wake up from deep sleep. Instead we will use a special mode of the SX1262 chip called RX Duty Cycle. We initialize the SX1262, start the RX Duty Cycle and then send the ESP32 into deep sleep, this time with an external interrupt as wake up event. Once the SX1262 has received a data package it will raise an interrupt which will wake up the ESP32. Then the ESP32 can read the received data package and process it.
The SX1262 will be in low power mode and wake up only for a short period of time to listen if any LoRa packages are about to be sent. Semtech has a good application note how this works, the document SX1261_AN1200.36_SX1261-2_RxDutyCycle_V1.0. I strongly recommend that you read this document before falling into a trap and your ESP32 is forever in deep sleep (unless you push the reset button). For those who don't want to go through the whole document, I use some excerpts from the application to show you how RX Duty Cycle works and what settings need your special attention.
The principle of RX Duty Cycle
RxDutyCycle is a special RX mode that allows decreasing power consumption by putting periodically the radio in reception, while keeping the microcontroller in sleep mode. When a packet is received by the SX1261/2 it triggers an interrupt for the microcontroller in order to wake it up.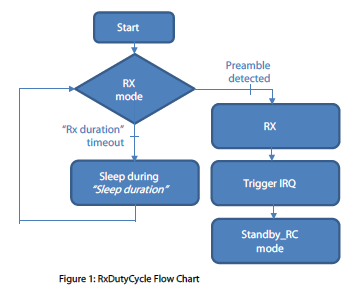 Calculation of sleep and receive time length
The important stuff is to calculate the "Rx duration" and the "Sleep duration" times. If you set your sleep time too long, the SX1262 might miss a preamble which is the beginning of a data package.
But how do we know the preamble length? Semtech has a nice tool, the SX1261 Calculator Tool. You definitely needto download and install this tool, because you need it to calculate the length of the sleep period.
Once you have the tool installed start it. In order to get the length of the preamble (which determines the length of the sleep period) you have to enter 4 parameters in the tool.
Spreading factor
Bandwidth
Code Rate
Preamble Length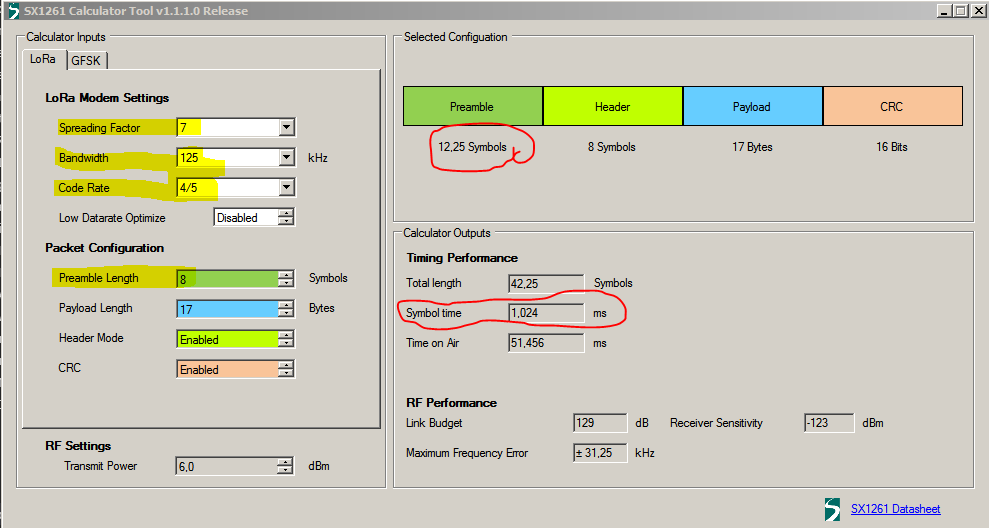 These parameters define the length of a single symbol.
Check the screenshot above where I marked in yellow the parameters you need to enter. The red circled numbers are what we need to calculate the preamble length.
In above example I set the SF to 7, the bandwidth to 125kHz, the CR to 4/5 and the preamble length to 8. That is what I will use later in the code.
You can see that with this settings, a symbol has a length of 1024ms and the preamble is 12.25 symbols long. That means that our preamble length is 1024ms * 12.25 = 12544ms long. So we know we have to set our sleep time shorter than that. To be able to receive at least 2 symbols when trying to catch the beginning of a data packet, I defined the sleep time to 10 symbols length which is 1024ms * 10 = 10240ms.
Ok, so now we know how long we can put the SX126x into sleep without missing a package. For the receive window, the time the SX126x is actually awake and listening, I chose a time of 2 symbols which gives us 1024ms * 2 = 2048ms.
If we calculated the sleep and receive times correct, we will be able to catch any incoming data packet, even in the worst case that we see only the last two symbols of the preamble.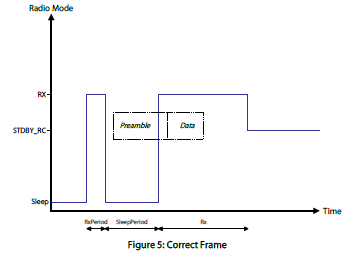 Now if you look on these two numbers, sleep time 10ms and awake (receive) time 2ms, that means that the SX126x is basically sleeping 8/10th of the time. And the ESP32 will be in deep sleep as well most of the time and only wake up after the SX1262 received a data package. That should give us a good power saving.
Additional methods to save battery
Beside of Deep Sleep and RX Duty Cycle there are 2 more things that should be done to reduce power consumption.
a) Once you have debugged your code and it is running well, remove (disable) all usage of the Serial port. In the code example this is done with the #define BATT_SAVE_ON 1. when you look through the code you can see that every usage of Serial is fenced by a check if BATT_SAVE_ON is defined 0 or not
This is a compiler directive which tells the compiler whether to include the Serial commands in the code or not. If BATT_SAVE_ON is set to 0, the compiler will include all Serial commands into the generated code. Otherwise all Serial commands will be removed.
b) Reduce the CPU frequency with the simple function setCpuFrequencyMhz(). By default the ESP32 is running on a 240MHz clock. This can be reduced to
160MHz (WiFi and Bluetooth ok)
80MHz (WiFi and Bluetooth ok)
40MHz (no WiFi and no Bluetooth)
26MHz (no WiFi and no Bluetooth)
20MHz (no WiFi and no Bluetooth)
13MHz (no WiFi and no Bluetooth)
10MHz (no WiFi and no Bluetooth)
On the gateway node we will need WiFi, so a reduction to 80MHz is the right choice. On the sensor node we could theoretically go lower, but I never tested it and there might be a problem with the I2C bus to the sensor.
General Software (both Sensor and Gateway node)
The code should be more or less self explaining, but here a few important details.
Definitions
LoRa settings and the pin configuration for the hardware connection between the ESP32 and the Alora RFM1262
1

2

3

4

5

6

7

8

9

10

11

12

13

14

15

16

17

18

19

20

21

22

23

24

25

26

27

28

29

30

31

32

#define RF_FREQUENCY 915600000 // Hz

#define TX_OUTPUT_POWER 22 // dBm

#define LORA_BANDWIDTH 0 // [0: 125 kHz, 1: 250 kHz, 2: 500 kHz, 3: Reserved]

#define LORA_SPREADING_FACTOR 7 // [SF7..SF12] [1: 4/5, 2: 4/6, 3: 4/7, 4: 4/8]

#define LORA_CODINGRATE 1 // [1: 4/5, 2: 4/6, 3: 4/7, 4: 4/8]

#define LORA_PREAMBLE_LENGTH 8 // Same for Tx and Rx

#define LORA_SYMBOL_TIMEOUT 0 // Symbols

#define LORA_FIX_LENGTH_PAYLOAD_ON false

#define LORA_IQ_INVERSION_ON false

#define RX_TIMEOUT_VALUE 5000

#define TX_TIMEOUT_VALUE 5000

// ESP32 Feather - Alora RFM1262 pin configuration

int

PIN_LORA_MISO

=

MISO

;

int

PIN_LORA_MOSI

=

MOSI

;

/** LORA ANTENNA TX ENABLE */

/** LORA ANTENNA RX ENABLE */
In the first part you setup the LoRa communication definitions. It is important that you choose a transmission frequency that is within the legal ISM frequencies of your country. For the settings it is important to use the same values on the sensor node and the gateway node.
By changing the bandwidth, spreading factor, coding rate and preamble length, you can increase or decrease your data rate. Higher data rate means lower range. Mark Zachman wrote a very nice explanation how these settings influence both the data rate and range in The Best LoRa Settings for Range and Reliability
LoRa event callbacks
The SX126x library is interrupt driven and you need to define functions that handle different events. For the sensor node there are only 3 events that need to be taken care of.
// LoRa callback functions

/** LoRa transmit success */

/** LoRa transmit timeout */

void

OnCadDone

(

bool

cadResult

)

;
At the end of a successful transmission OnTxDone will be called. At this point the sensor node is ready to back into deep sleep.
In case an error occurred during the transmission OnTxTimeout will be called. In this case you might consider to resend the data package, but in this tutorial I just ignore it and send the node back into deep sleep.
Before sending a package a Channel Activity Detection (CAD) should be started. At the end OnCadDone is called with the result.
About Channel Activity Detection
To avoid collision of data packages sent by different LoRa nodes, the SX1262 has a feature called Channel Activity Detection, short CAD. It is strongly recommended to use this feature before starting to send a data package. If you just start sending and at the same time another LoRa node is already sending data your activity will not only destroy your own data package, but as well the data of the other LoRa node.
So before sending a data package, the SX1262 is set into CAD mode.
SX126xSetCadParams

(

LORA_CAD_08_SYMBOL

,

LORA_SPREADING_FACTOR

+

13

,

10

,

LORA_CAD_ONLY

,

0

)

;

SX126xSetDioIrqParams

(

IRQ_CAD_DONE

|

IRQ_CAD_ACTIVITY_DETECTED

,

IRQ_CAD_DONE

|

IRQ_CAD_ACTIVITY_DETECTED

,

IRQ_RADIO_NONE

,

IRQ_RADIO_NONE

)

;
Radio.StartCad will check for a defined time for any activity on the selected frequency. If it detects any other LoRa node sending data, OnCadDone will be called with a return value of TRUE. In this case you should not start any transmission. If no activity is detected, OnCadDone will be called with the return value of FALSE. In this case you should immediately start sending your data package.
The time the SX1262 is checking is defined by the given number of symbols (LORA_CAD_08_SYMBOL) and the length of a single symbol (See SX1261 Calculator Tool above how to know the length of a symbol).
For the gateway node there are as well 3 LoRa events that needs to be handled.
/** LoRa receive success */

void

OnRxDone

(

uint8_t

*

payload

,

uint16_t

size

,

int16_t

rssi

,

int8_t

snr

)

;

/** LoRa receive timeout */

/** LoRa receive error */
OnRxDone is called when a package was received successfully. In this case we get pointers to the data, the size of the received data and information about the signal itself (Signal strength and Signal to Noise Ratio).
In case of a timeout while waiting for a package, onRxTimeout is called.
And if the received package is invalid (CRC checksum is not correct), OnRxError is called. In this case the data package should be ignored.
The Adafruit IO stuff
Kindly Adafruit others a free IoT visualization tool. With this website and the provided Adafruit MQTT library it is quite easy to send your sensor data to the cloud and visualize it.
To be able to send data to the io.adafruit IoT cloud service you will have to sign up for an Adafruit IO account. What we need here in the software are
the AIO_USERNAME and AIO_KEY to be able to send data to io.adafruit.com.
While logged into your Adafruit IO account click on the AIO Key button to get these two values.
After setting up the account details in the gateway software the sensor data can be sent to Adafruit IO
#define AIO_USERNAME "XXXXXXXX"

#define AIO_KEY "XXXXXXXXXXXXXXXXXXXXXXXXXXXXXXXXX"

#define AIO_SERVER "io.adafruit.com"

#define AIO_SERVERPORT 1883 // use 8883 for SSL

Adafruit_MQTT_Client

mqtt

(

&client

,

AIO_SERVER

,

AIO_SERVERPORT

,

AIO_USERNAME

,

AIO_KEY

)

;
Each feed to Adafruit IO needs a unique name, which should identify the sensor. To avoid changing the source code for each single sensor node you want to setup, I create a unique 4 byte identifier from the ESP32's MAC address. The SX126x-Arduino library provides a function to get this MAC address and we just have to copy the id into an uint32_t variable.
BoardGetUniqueId

(

deviceMac

)

;

deviceID

+=

(

uint32_t

)

deviceMac

[

2

]

;

deviceID

+=

(

uint32_t

)

deviceMac

[

3

]

<<

8

;

deviceID

+=

(

uint32_t

)

deviceMac

[

4

]

<<

16

;

deviceID

+=

(

uint32_t

)

deviceMac

[

5

]

<<

24

;
The sensor node will include its unique ID into the data package together with the sensor data.
dataMsg

.

nodeId

=

deviceID

;

dataMsg

.

tempInt

=

(

int8_t

)

sensTemp

;

dataMsg

.

tempFrac

=

(

uint8_t

)

(

(

sensTemp

-

dataMsg

.

tempInt

)

*

100

)

;

dataMsg

.

humidInt

=

(

uint8_t

)

sensHumid

;

dataMsg

.

humidFrac

=

(

uint8_t

)

(

(

sensHumid

-

dataMsg

.

humidInt

)

*

100

)

;
The gateway node will extract the unique ID from the data package and use it to send the data to a unique feed on Adafruit IO.
1

2

3

4

5

6

7

8

9

10

11

12

13

14

15

16

17

18

19

20

21

22

23

24

25

26

27

// Publish Temperature from received message

sprintf

(

devTopic

,

"%s/feeds/%08X_t"

,

sprintf

(

devValue

,

"%.2f"

,

(

(

float

)

dataMsg

.

tempFrac

/

100.0

)

+

(

float

)

dataMsg

.

tempInt

)

;

Serial

.

printf

(

"Publishing topic %s with value %s\n"

,

devTopic

,

devValue

)

;

mqtt

.

publish

(

devTopic

,

devValue

)

;

// Publish Humidity from received message

sprintf

(

devTopic

,

"%s/feeds/%08X_h"

,

sprintf

(

devValue

,

"%.2f"

,

(

(

float

)

dataMsg

.

humidFrac

/

100.0

)

+

(

float

)

dataMsg

.

humidInt

)

;

Serial

.

printf

(

"Publishing topic %s with value %s\n"

,

devTopic

,

devValue

)

;

mqtt

.

publish

(

devTopic

,

devValue

)

;
The feed we publish to has the format <USERNAME>/feeds/<FEEDNAME>. We create this feed name with the sprintf command sprintf(devTopic, "%s/feeds/%08X_t", AIO_USERNAME, dataMsg.nodeId); At the end we add either a _t for the temperature data or a _h for the humidity value.
========================================================================
The full source code can be found in my Github repo for the SX126x-Arduino library.
But just in case you want to copy and paste, here it is as well.
The Sensor Node source code
1

2

3

4

5

6

7

8

9

10

11

12

13

14

15

16

17

18

19

20

21

22

23

24

25

26

27

28

29

30

31

32

33

34

35

36

37

38

39

40

41

42

43

44

45

46

47

48

49

50

51

52

53

54

55

56

57

58

59

60

61

62

63

64

65

66

67

68

69

70

71

72

73

74

75

76

77

78

79

80

81

82

83

84

85

86

87

88

89

90

91

92

93

94

95

96

97

98

99

100

101

102

103

104

105

106

107

108

109

110

111

112

113

114

115

116

117

118

119

120

121

122

123

124

125

126

127

128

129

130

131

132

133

134

135

136

137

138

139

140

141

142

143

144

145

146

147

148

149

150

151

152

153

154

155

156

157

158

159

160

161

162

163

164

165

166

167

168

169

170

171

172

173

174

175

176

177

178

179

180

181

182

183

184

185

186

187

188

189

190

191

192

193

194

195

196

197

198

199

200

201

202

203

204

205

206

207

208

209

210

211

212

213

214

215

216

217

218

219

220

221

222

223

224

225

226

227

228

229

230

231

232

233

234

235

236

237

238

239

240

241

242

243

244

245

246

247

248

249

250

251

252

253

254

255

256

257

258

259

260

261

262

263

264

265

266

267

268

269

270

271

272

273

274

275

276

277

278

279

280

281

282

283

284

285

286

287

288

289

290

291

292

293

294

295

296

297

298

299

300

301

302

303

304

305

306

307

308

309

310

311

312

313

314

315

316

317

318

319

320

321

322

323

324

325

326

327

328

329

330

331

332

333

334

335

336

#include <SX126x-Arduino.h>

#include "Adafruit_Si7021.h"

// Set to 1 to stop any output on Serial

/** Number of retries if CAD shows busy */

#define RF_FREQUENCY 915600000 // Hz

#define TX_OUTPUT_POWER 22 // dBm

#define LORA_BANDWIDTH 0 // [0: 125 kHz, 1: 250 kHz, 2: 500 kHz, 3: Reserved]

#define LORA_SPREADING_FACTOR 7 // [SF7..SF12] [1: 4/5, 2: 4/6, 3: 4/7, 4: 4/8]

#define LORA_CODINGRATE 1 // [1: 4/5, 2: 4/6, 3: 4/7, 4: 4/8]

#define LORA_PREAMBLE_LENGTH 8 // Same for Tx and Rx

#define LORA_SYMBOL_TIMEOUT 0 // Symbols

#define LORA_FIX_LENGTH_PAYLOAD_ON false

#define LORA_IQ_INVERSION_ON false

#define RX_TIMEOUT_VALUE 5000

#define TX_TIMEOUT_VALUE 5000

// ESP32 Feather - Alora RFM1262 pin configuration

int

PIN_LORA_MISO

=

MISO

;

int

PIN_LORA_MOSI

=

MOSI

;

/** LORA ANTENNA TX ENABLE */

/** LORA ANTENNA RX ENABLE */

/** LoRa callback events */

static

RadioEvents_t

RadioEvents

;

// LoRa callback functions

/** LoRa transmit success */

/** LoRa transmit timeout */

void

OnCadDone

(

bool

cadResult

)

;

/** The Data message will be sent by the node */

uint8_t

startMark

[

4

]

=

{

0xAA

,

0x55

,

0x00

,

0x00

}

;

uint8_t

endMark

[

4

]

=

{

0x00

,

0x00

,

0x55

,

0xAA

}

;

/** The sensor node ID, created from MAC of ESP32 */

/** LoRa error timeout */

/** CAD repeat counter */

Adafruit_Si7021

sensor

=

Adafruit_Si7021

(

)

;

/** Conversion factor for micro seconds to seconds */

#define uS_TO_mS_FACTOR 1000

/** Time ESP32 will sleep (in milliseconds) */

long

sleepForMillis

=

30000

;

// Record the wakeup time

// Slowing down the ESP32 to 1/4 of its speed saves more energy

pinMode

(

LED_BUILTIN

,

OUTPUT

)

;

digitalWrite

(

LED_BUILTIN

,

HIGH

)

;

/** HW configuration structure for the LoRa library */

BoardGetUniqueId

(

deviceMac

)

;

deviceID

+=

(

uint32_t

)

deviceMac

[

2

]

;

deviceID

+=

(

uint32_t

)

deviceMac

[

3

]

<<

8

;

deviceID

+=

(

uint32_t

)

deviceMac

[

4

]

<<

16

;

deviceID

+=

(

uint32_t

)

deviceMac

[

5

]

<<

24

;

Serial

.

println

(

"++++++++++++++++++++++++++++++++++++++"

)

;

Serial

.

printf

(

"Sensor node ID %08X using frequency %.1f MHz\n"

,

deviceID

,

(

double

)

(

RF_FREQUENCY

/

1000000.0

)

)

;

Serial

.

println

(

"++++++++++++++++++++++++++++++++++++++"

)

;

// Define the HW configuration between MCU and SX126x

hwConfig

.

CHIP_TYPE

=

SX1262_CHIP

;

// eByte E22 module with an SX1262

hwConfig

.

PIN_LORA_RESET

=

PIN_LORA_RESET

;

// LORA RESET

hwConfig

.

PIN_LORA_NSS

=

PIN_LORA_NSS

;

// LORA SPI CS

hwConfig

.

PIN_LORA_SCLK

=

PIN_LORA_SCLK

;

// LORA SPI CLK

hwConfig

.

PIN_LORA_MISO

=

PIN_LORA_MISO

;

// LORA SPI MISO

hwConfig

.

PIN_LORA_DIO_1

=

PIN_LORA_DIO_1

;

// LORA DIO_1

hwConfig

.

PIN_LORA_BUSY

=

PIN_LORA_BUSY

;

// LORA SPI BUSY

hwConfig

.

PIN_LORA_MOSI

=

PIN_LORA_MOSI

;

// LORA SPI MOSI

hwConfig

.

RADIO_TXEN

=

RADIO_TXEN

;

// LORA ANTENNA TX ENABLE

hwConfig

.

RADIO_RXEN

=

RADIO_RXEN

;

// LORA ANTENNA RX ENABLE

hwConfig

.

USE_DIO2_ANT_SWITCH

=

true

;

// Example uses an eByte E22 module which uses RXEN and TXEN pins as antenna control

hwConfig

.

USE_DIO3_TCXO

=

true

;

// Example uses an eByte E22 module which uses DIO3 to control oscillator voltage

hwConfig

.

USE_DIO3_ANT_SWITCH

=

false

;

// Only Insight ISP4520 module uses DIO3 as antenna control

if

(

lora_hardware_init

(

hwConfig

)

!=

0

)

Serial

.

println

(

"Error in hardware init"

)

;

// Initialize the callbacks we need for sending

RadioEvents

.

TxDone

=

OnTxDone

;

RadioEvents

.

TxTimeout

=

OnTxTimeout

;

RadioEvents

.

CadDone

=

OnCadDone

;

Radio

.

Init

(

&RadioEvents

)

;

Radio

.

SetChannel

(

RF_FREQUENCY

)

;

// Set transmit configuration

Radio

.

SetTxConfig

(

MODEM_LORA

,

TX_OUTPUT_POWER

,

0

,

LORA_BANDWIDTH

,

LORA_SPREADING_FACTOR

,

LORA_CODINGRATE

,

LORA_PREAMBLE_LENGTH

,

LORA_FIX_LENGTH_PAYLOAD_ON

,

true

,

0

,

0

,

LORA_IQ_INVERSION_ON

,

TX_TIMEOUT_VALUE

)

;

// Set receive configuration

Radio

.

SetRxConfig

(

MODEM_LORA

,

LORA_BANDWIDTH

,

LORA_SPREADING_FACTOR

,

LORA_CODINGRATE

,

0

,

LORA_PREAMBLE_LENGTH

,

LORA_SYMBOL_TIMEOUT

,

LORA_FIX_LENGTH_PAYLOAD_ON

,

0

,

true

,

0

,

0

,

LORA_IQ_INVERSION_ON

,

true

)

;

// Initialize SI7021 temperature sensor

Serial

.

println

(

"Did not find Si7021 sensor!"

)

;

float

sensTemp

=

sensor

.

readTemperature

(

)

;

float

sensHumid

=

sensor

.

readHumidity

(

)

;

if

(

(

sensTemp

==

NAN

)

||

(

sensHumid

==

NAN

)

||

(

sensTemp

==

255.255

)

||

(

sensHumid

==

255.255

)

)

// Error reading the sensor, try one more time

float

sensTemp

=

sensor

.

readTemperature

(

)

;

float

sensHumid

=

sensor

.

readHumidity

(

)

;

if

(

(

sensTemp

==

NAN

)

||

(

sensHumid

==

NAN

)

)

// Second reading failed as well, give up

Serial

.

println

(

"Could not read sensor data, skip sending"

)

;

dataMsg

.

nodeId

=

deviceID

;

dataMsg

.

tempInt

=

(

int8_t

)

sensTemp

;

dataMsg

.

tempFrac

=

(

uint8_t

)

(

(

sensTemp

-

dataMsg

.

tempInt

)

*

100

)

;

dataMsg

.

humidInt

=

(

uint8_t

)

sensHumid

;

dataMsg

.

humidFrac

=

(

uint8_t

)

(

(

sensHumid

-

dataMsg

.

humidInt

)

*

100

)

;

Serial

.

printf

(

"Finished reading sensor after %ldms\n"

,

(

millis

(

)

-

wakeup

)

)

;

Serial

.

print

(

dataMsg

.

tempInt

)

;

Serial

.

println

(

dataMsg

.

tempFrac

)

;

Serial

.

print

(

dataMsg

.

humidInt

)

;

Serial

.

println

(

dataMsg

.

humidFrac

)

;

Serial

.

println

(

"Data package as HEX values:"

)

;

char

*

printData

=

(

char

*

)

&dataMsg

;

for

(

int

idx

=

0

;

idx

<

sizeof

(

dataMsg

)

;

idx

++

)

Serial

.

printf

(

"%02X "

,

printData

[

idx

]

)

;

SX126xSetCadParams

(

LORA_CAD_08_SYMBOL

,

LORA_SPREADING_FACTOR

+

13

,

10

,

LORA_CAD_ONLY

,

0

)

;

SX126xSetDioIrqParams

(

IRQ_CAD_DONE

|

IRQ_CAD_ACTIVITY_DETECTED

,

IRQ_CAD_DONE

|

IRQ_CAD_ACTIVITY_DETECTED

,

IRQ_RADIO_NONE

,

IRQ_RADIO_NONE

)

;

// Counter for repeated CAD in case we have many traffic

// Make sure we detect a timeout during sending

// Check for LoRa timeout

if

(

(

millis

(

)

-

loraTimeout

)

>

120000

)

Serial

.

println

(

"LoRa loop timeout"

)

;

// LoRa failed, go back to bed

* Put sensor mode into deep-sleep mode

// Send the LoRa module to sleep

Serial

.

printf

(

"Sleeping after %ldms\n"

,

(

millis

(

)

-

wakeup

)

)

;

time_t

awakeTime

=

millis

(

)

-

wakeup

;

esp_sleep_enable_timer_wakeup

(

(

sleepForMillis

-

awakeTime

)

*

uS_TO_mS_FACTOR

)

;

/**@brief Function to be executed on Radio Tx Done event

Serial

.

println

(

"Transmit finished"

)

;

// LoRa failed, go back to bed

/**@brief Function to be executed on Radio Tx Timeout event

Serial

.

println

(

"Transmit timeout"

)

;

// LoRa failed, go back to bed

/**@brief Function to be executed on Radio Rx Error event

void

OnCadDone

(

bool

cadResult

)

Serial

.

printf

(

"CAD returned channel busy %d times\n"

,

cadRepeat

)

;

SX126xSetCadParams

(

LORA_CAD_08_SYMBOL

,

LORA_SPREADING_FACTOR

+

13

,

10

,

LORA_CAD_ONLY

,

0

)

;

SX126xSetDioIrqParams

(

IRQ_CAD_DONE

|

IRQ_CAD_ACTIVITY_DETECTED

,

IRQ_CAD_DONE

|

IRQ_CAD_ACTIVITY_DETECTED

,

IRQ_RADIO_NONE

,

IRQ_RADIO_NONE

)

;

// LoRa is too busy? Go to bed

Serial

.

printf

(

"CAD returned channel free after %d times\n"

,

cadRepeat

)

;

Radio

.

Send

(

(

uint8_t

*

)

&dataMsg

,

sizeof

(

dataMsg

)

)

;
The Gateway Node source code
1

2

3

4

5

6

7

8

9

10

11

12

13

14

15

16

17

18

19

20

21

22

23

24

25

26

27

28

29

30

31

32

33

34

35

36

37

38

39

40

41

42

43

44

45

46

47

48

49

50

51

52

53

54

55

56

57

58

59

60

61

62

63

64

65

66

67

68

69

70

71

72

73

74

75

76

77

78

79

80

81

82

83

84

85

86

87

88

89

90

91

92

93

94

95

96

97

98

99

100

101

102

103

104

105

106

107

108

109

110

111

112

113

114

115

116

117

118

119

120

121

122

123

124

125

126

127

128

129

130

131

132

133

134

135

136

137

138

139

140

141

142

143

144

145

146

147

148

149

150

151

152

153

154

155

156

157

158

159

160

161

162

163

164

165

166

167

168

169

170

171

172

173

174

175

176

177

178

179

180

181

182

183

184

185

186

187

188

189

190

191

192

193

194

195

196

197

198

199

200

201

202

203

204

205

206

207

208

209

210

211

212

213

214

215

216

217

218

219

220

221

222

223

224

225

226

227

228

229

230

231

232

233

234

235

236

237

238

239

240

241

242

243

244

245

246

247

248

249

250

251

252

253

254

255

256

257

258

259

260

261

262

263

264

265

266

267

268

269

270

271

272

273

274

275

276

277

278

279

280

281

282

283

284

285

286

287

288

289

290

291

292

293

294

295

296

297

298

299

300

301

302

303

304

305

306

307

308

309

310

311

312

313

314

315

316

317

318

319

320

321

322

323

324

325

326

327

328

329

330

331

332

333

334

335

336

337

338

339

340

341

342

343

344

345

346

347

348

349

350

351

352

353

354

#include <driver/rtc_io.h>

#include <SX126x-Arduino.h>

#include <Adafruit_MQTT.h>

#include <Adafruit_MQTT_Client.h>

// Set to 1 to stop any output on Serial

// ESP32 Feather - Alora RFM1262 pin configuration

// Define LoRa parameters

#define RF_FREQUENCY 915600000 // Hz

#define TX_OUTPUT_POWER 22 // dBm

#define LORA_BANDWIDTH 0 // [0: 125 kHz, 1: 250 kHz, 2: 500 kHz, 3: Reserved]

#define LORA_SPREADING_FACTOR 7 // [SF7..SF12]

#define LORA_CODINGRATE 1 // [1: 4/5, 2: 4/6, 3: 4/7, 4: 4/8]

#define LORA_PREAMBLE_LENGTH 8 // Same for Tx and Rx

#define LORA_SYMBOL_TIMEOUT 0 // Symbols

#define LORA_FIX_LENGTH_PAYLOAD_ON false

#define LORA_IQ_INVERSION_ON false

#define RX_TIMEOUT_VALUE 3000

#define TX_TIMEOUT_VALUE 3000

#define BUFFER_SIZE 512 // Define the payload size here

static

RadioEvents_t

RadioEvents

;

/** LoRa receive success */

void

OnRxDone

(

uint8_t

*

payload

,

uint16_t

size

,

int16_t

rssi

,

int8_t

snr

)

;

/** LoRa receive timeout */

/** LoRa receive error */

/* The Data message that will be received from the sensor nodes */

uint8_t

startMark

[

4

]

=

{

0xAA

,

0x55

,

0x00

,

0x00

}

;

uint8_t

endMark

[

4

]

=

{

0x00

,

0x00

,

0x55

,

0xAA

}

;

#define AIO_USERNAME "<PUT_YOUR_AIO_USERNAME_HERE>"

#define AIO_KEY " < PUT_YOUR_AIO_KEY_HERE > "

#define AIO_SERVER "io.adafruit.com"

#define AIO_SERVERPORT 1883 // use 8883 for SSL

// PUT YOUR OWN WIFI AP NAME AND PASSWORD HERE

/** WiFi client to connect to IoT service */

/** MQTT client to connect to io.adafruit.com */

Adafruit_MQTT_Client

mqtt

(

&client

,

AIO_SERVER

,

AIO_SERVERPORT

,

AIO_USERNAME

,

AIO_KEY

)

;

/** Feed for temperature of sensor 0 */

Adafruit_MQTT_Publish

temp_feed

=

Adafruit_MQTT_Publish

(

&mqtt

,

AIO

_

USERNAME

"/feeds/t_node_0"

)

;

/** Feed for humidity of sensor 0 */

Adafruit_MQTT_Publish

humid_feed

=

Adafruit_MQTT_Publish

(

&mqtt

,

AIO

_

USERNAME

"/feeds/h_node_0"

)

;

/** Timeout for WiFi and Adafruit connection */

// Start serial communication

// Check the reasons the CPU's are started. We need this later to decide if a full initialization

// of the SX126x is required or if the chip just woke up triggered by an interrupt from the SX126x

RESET_REASON

cpu0WakeupReason

=

rtc_get_reset_reason

(

0

)

;

RESET_REASON

cpu1WakeupReason

=

rtc_get_reset_reason

(

1

)

;

pinMode

(

LED_BUILTIN

,

OUTPUT

)

;

digitalWrite

(

LED_BUILTIN

,

HIGH

)

;

/** LoRa HW configuration */

// Define the HW configuration between MCU and SX126x

hwConfig

.

CHIP_TYPE

=

SX1262_CHIP

;

// Example uses an eByte E22 module with an SX1262

hwConfig

.

PIN_LORA_RESET

=

PIN_LORA_RESET

;

// LORA RESET

hwConfig

.

PIN_LORA_NSS

=

PIN_LORA_NSS

;

// LORA SPI CS

hwConfig

.

PIN_LORA_SCLK

=

PIN_LORA_SCLK

;

// LORA SPI CLK

hwConfig

.

PIN_LORA_MISO

=

PIN_LORA_MISO

;

// LORA SPI MISO

hwConfig

.

PIN_LORA_DIO_1

=

PIN_LORA_DIO_1

;

// LORA DIO_1

hwConfig

.

PIN_LORA_BUSY

=

PIN_LORA_BUSY

;

// LORA SPI BUSY

hwConfig

.

PIN_LORA_MOSI

=

PIN_LORA_MOSI

;

// LORA SPI MOSI

hwConfig

.

RADIO_TXEN

=

-

1

;

// LORA ANTENNA TX ENABLE

hwConfig

.

RADIO_RXEN

=

-

1

;

// LORA ANTENNA RX ENABLE

hwConfig

.

USE_DIO2_ANT_SWITCH

=

true

;

// Example uses an CircuitRocks Alora RFM1262 which uses DIO2 pins as antenna control

hwConfig

.

USE_DIO3_TCXO

=

true

;

// Example uses an CircuitRocks Alora RFM1262 which uses DIO3 to control oscillator voltage

hwConfig

.

USE_DIO3_ANT_SWITCH

=

false

;

// Only Insight ISP4520 module uses DIO3 as antenna control

// Slowing down the ESP32 to 1/4 of its speed saves more energy

// Initialize the LoRa chip

if

(

(

cpu0WakeupReason

==

DEEPSLEEP_RESET

)

||

(

cpu1WakeupReason

==

DEEPSLEEP_RESET

)

)

// Wake up reason was a DEEPSLEEP_RESET, which means we were woke up by the SX126x

Serial

.

println

(

"Starting lora_hardware_re_init"

)

;

lora_hardware_re_init

(

hwConfig

)

;

// Other wake up reasons mean we need to do a complete initialization of the SX126x

Serial

.

println

(

"Starting lora_hardware_init"

)

;

lora_hardware_init

(

hwConfig

)

;

// Initialize the Radio callbacks we need to receive data

RadioEvents

.

RxDone

=

OnRxDone

;

RadioEvents

.

RxTimeout

=

OnRxTimeout

;

RadioEvents

.

RxError

=

OnRxError

;

// Check the wakeup reason

if

(

(

cpu0WakeupReason

==

DEEPSLEEP_RESET

)

||

(

cpu1WakeupReason

==

DEEPSLEEP_RESET

)

)

// Wake up reason was a DEEPSLEEP_RESET, just re-initialize the callbacks

Serial

.

println

(

"Trying to handle SX1262 event after deep sleep wakeup"

)

;

// Re-initialize the Radio

Radio

.

ReInit

(

&RadioEvents

)

;

// Initialize WiFi connection

// Handle LoRa events to find out what the reason for the wake up was and handle the data

Radio

.

IrqProcessAfterDeepSleep

(

)

;

Serial

.

println

(

"Power on reset, reinitialize the Radio"

)

;

// Other wake up reasons mean we need to do a complete initialization of the SX126x

Radio

.

Init

(

&RadioEvents

)

;

Radio

.

SetChannel

(

RF_FREQUENCY

)

;

// Set Radio TX configuration

Radio

.

SetTxConfig

(

MODEM_LORA

,

TX_OUTPUT_POWER

,

0

,

LORA_BANDWIDTH

,

LORA_SPREADING_FACTOR

,

LORA_CODINGRATE

,

LORA_PREAMBLE_LENGTH

,

LORA_FIX_LENGTH_PAYLOAD_ON

,

true

,

0

,

0

,

LORA_IQ_INVERSION_ON

,

TX_TIMEOUT_VALUE

)

;

// Set Radio RX configuration

Radio

.

SetRxConfig

(

MODEM_LORA

,

LORA_BANDWIDTH

,

LORA_SPREADING_FACTOR

,

LORA_CODINGRATE

,

0

,

LORA_PREAMBLE_LENGTH

,

LORA_SYMBOL_TIMEOUT

,

LORA_FIX_LENGTH_PAYLOAD_ON

,

0

,

true

,

0

,

0

,

LORA_IQ_INVERSION_ON

,

true

)

;

// goToSleep will start listening to LoRa data packages and put the ESP32 into deep sleep

* Put SX126x into RX mode and ESP32 into deep-sleep mode

// Start waiting for data package

SX126xSetDioIrqParams

(

IRQ_RX_DONE

|

IRQ_RX_TX_TIMEOUT

,

IRQ_RX_DONE

|

IRQ_RX_TX_TIMEOUT

,

IRQ_RADIO_NONE

,

IRQ_RADIO_NONE

)

;

// To get maximum power savings we use Radio.SetRxDutyCycle instead of Radio.Rx(0)

// This function keeps the SX1261/2 chip most of the time in sleep and only wakes up short times

// to catch incoming data packages

Radio

.

SetRxDutyCycle

(

2

*

1024

*

1000

*

15.625

,

10

*

1024

*

1000

*

15.625

)

;

Serial

.

println

(

"Start sleeping"

)

;

// Make sure the DIO1, RESET and NSS GPIOs are hold on required levels during deep sleep

rtc_gpio_set_direction

(

(

gpio_num_t

)

PIN_LORA_DIO_1

,

RTC_GPIO_MODE_INPUT_ONLY

)

;

rtc_gpio_pulldown_en

(

(

gpio_num_t

)

PIN_LORA_DIO_1

)

;

rtc_gpio_set_direction

(

(

gpio_num_t

)

PIN_LORA_RESET

,

RTC_GPIO_MODE_OUTPUT_ONLY

)

;

rtc_gpio_set_level

(

(

gpio_num_t

)

PIN_LORA_RESET

,

HIGH

)

;

rtc_gpio_set_direction

(

(

gpio_num_t

)

PIN_LORA_NSS

,

RTC_GPIO_MODE_OUTPUT_ONLY

)

;

rtc_gpio_set_level

(

(

gpio_num_t

)

PIN_LORA_NSS

,

HIGH

)

;

// Setup deep sleep with wakeup by external source

esp_sleep_enable_ext0_wakeup

(

(

gpio_num_t

)

PIN_LORA_DIO_1

,

RISING

)

;

// Finally set ESP32 into sleep

/**@brief Function to be executed on Radio Rx Done event

void

OnRxDone

(

uint8_t

*

payload

,

uint16_t

size

,

int16_t

rssi

,

int8_t

snr

)

Serial

.

println

(

"Receive finished"

)

;

for

(

int

idx

=

0

;

idx

<

size

;

idx

++

)

sprintf

(

&debugOutput

[

(

idx

*

2

)

]

,

"%02X"

,

payload

[

idx

]

)

;

Serial

.

printf

(

"Data: %s\n"

,

debugOutput

)

;

// Save received message in a buffer

memcpy

(

(

void

*

)

&dataMsg

,

payload

,

size

)

;

// Check if it is a valid message

char

startMark

[

4

]

=

{

0xAA

,

0x55

,

0x00

,

0x00

}

;

char

endMark

[

4

]

=

{

0x00

,

0x00

,

0x55

,

0xAA

}

;

if

(

(

memcmp

(

(

void

*

)

dataMsg

.

startMark

,

startMark

,

4

)

!=

0

)

||

(

memcmp

(

(

void

*

)

dataMsg

.

endMark

,

endMark

,

4

)

!=

0

)

)

Serial

.

println

(

"Data is not for us"

)

;

// Wait for WiFi connection

while

(

!

WiFi

.

isConnected

(

)

)

if

(

(

millis

(

)

-

adafruitTimeout

)

>

60000

)

Serial

.

println

(

"Timeout connecting WiFi"

)

;

// Connect to Adafruit IO

while

(

(

ret

=

mqtt

.

connect

(

)

)

!=

0

)

if

(

(

millis

(

)

-

adafruitTimeout

)

>

60000

)

Serial

.

println

(

"Timeout connecting to Adafruit IO"

)

;

// Publish Temperature from received message

sprintf

(

devTopic

,

"%s/feeds/%08X_t"

,

sprintf

(

devValue

,

"%.2f"

,

(

(

float

)

dataMsg

.

tempFrac

/

100.0

)

+

(

float

)

dataMsg

.

tempInt

)

;

Serial

.

printf

(

"Publishing topic %s with value %s\n"

,

devTopic

,

devValue

)

;

mqtt

.

publish

(

devTopic

,

devValue

)

;

// Publish Humidity from received message

sprintf

(

devTopic

,

"%s/feeds/%08X_h"

,

sprintf

(

devValue

,

"%.2f"

,

(

(

float

)

dataMsg

.

humidFrac

/

100.0

)

+

(

float

)

dataMsg

.

humidInt

)

;

Serial

.

printf

(

"Publishing topic %s with value %s\n"

,

devTopic

,

devValue

)

;

mqtt

.

publish

(

devTopic

,

devValue

)

;

// LoRa receive finished, go back to bed

/**@brief Function to be executed on Radio Rx Timeout event

Serial

.

println

(

"Receive timeout"

)

;

// LoRa RX failed, go back to bed

/**@brief Function to be executed on Radio Rx Error event

Serial

.

println

(

"Receive error"

)

;

// LoRa RX failed, go back to bed